Last night, well-known Christian apologist John Lennox and Eusebius McKaiser, PowerFM talk show host and agnostic philosophical lecturer, went head to head (mind to mind, more like it!) in a debate on morality at WITS. You can pick some of the conversation on Twitter at the #GMWits hashtag and a Youtube video will be pasted later (I'll update this blog with it when it comes out).
So what happened? It was invigorating and stimulating, as these debates should be. I thoroughly enjoyed it and was impressed with the turn-out. I loved the brilliance and civility of both speakers. However, I did feel that Lennox could have been stronger, McKaiser could have been clearer. I loved the debate but felt it got bogged down in the wrong areas.
The topic was whether or not God is required for morality. Can morality exist on its own? Or does it require God? (How you frame the question really betrays your bias, doesn't it?) Each speaker opened up with a brief breakdown of how they came to believe in the existence or non-existence of God. Some interesting points: Lennox said that the conflict between Science and Religion is superficial and then stated, "I am coming to believe that atheism and science don't mix at all." From McKaiser's side, he simply stated that he does not believe that "God exists" is a true claim and all of his philosophical study has never really produced any viable evidence for the existence of God. At the very best you can come to the conclusion there is a deity, but not that the Christian god exists, he said.
But onto the real debate
But this was a debate on morality and it's here where I felt McKaiser didn't address the key question I was hoping he would. McKaiser, interestingly enough, believes that objective morality exists, but it doesn't require God to exist. That was fascinating for me. He is not a moral relativist. (He even stated that relativism is, in his opinion, highly dangerous.) But what does he ground objective morality in? The answer seems to be rationality (or his own rationality, I would imagine, as a starting point). So the question posed to him from Lennox was, "Why do you put so much faith in your own rationality?"
Why does McKaiser believe this is a reliable base? Unfortunately I didn't feel he answered this question or articulated his position clearly. This for me was really what I wanted to hear. But whether he dodged the question or just didn't make it clear, I didn't hear an answer that satisfied me (I'm using that phrase deliberately in a tongue-in-cheek way to McKaiser's argument about evidence for God). At first he answered the question by highlighting that Lennox is thoroughly convinced of the reliability of scientific method, but makes a jump to believing that water could turn to wine. It was a brilliant challenge and Lennox didn't really answer it directly in my mind either, but it didn't really answer the question. I suppose he was saying that Lennox himself places great faith in rationality, but Lennox was clear that the only reason why that is is he believes we are made in God's image and as a result we share some attributes of God, such as the ability to be rational.
Why does McKaiser believe people have intrinsic value? On what basis does he make that claim? As my friend Wesley asked, "If moral objectivity exists outside of God and we say rape is bad, because that person has value, who / what determines that value?" I wondered: if I must trust my own rationality for morality, how do I know I can trust it? What if I'm actually mentally ill and don't know?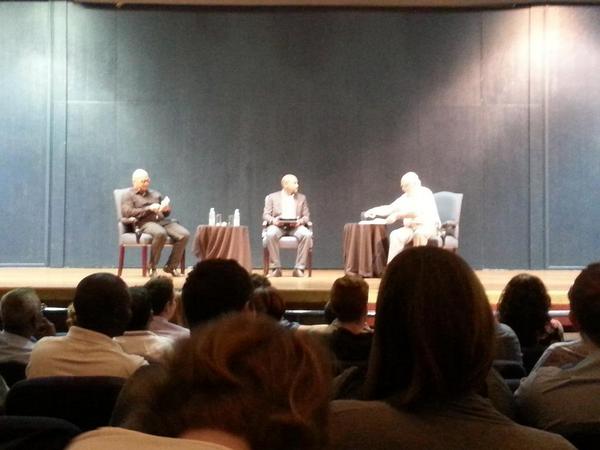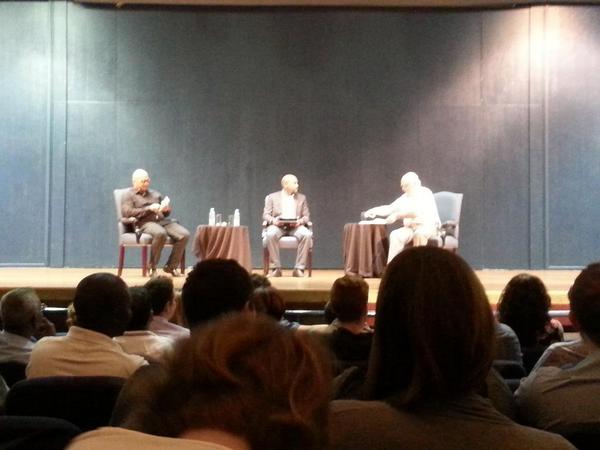 Some assumptions
So I'm left to play a bit of a guessing game on McKaiser's position. I wondered if McKaiser was going to bring up some sort of Kantian model for his position, but he didn't go there. I wondered if he was going to bring in society and "nurture", or evolutionary arguments, but he seems to reject either of those. It would seem to me that he takes rationality for granted. Where does rationality come from? What is the standard for rationality? Where does that standard come from? Does it come from an external place (society?) or an internal place (EQ?). Is this really about cosmology? (For example, the universe is an ordered place, and therefore we are naturally inclined to order. But of course, the drive for order has resulted in some pretty immoral actions!) Is this really about the conscience? And where does that come from? McKaiser obviously wants to avoid anything that sounds like an inner light or mysterious "knowing" or a soul or even the "heart", or something along those lines, and talking about the conscience might force him in that direction (and besides, it seems the conscience can be tweaked).
I realise the limits of this sort of debate in terms of time and structure, but I really didn't feel satisfied by the end that this was answered. Yes, I know my own presuppositions but try my best to be open-minded.
Usually arguments that say we don't need God for morality seems to venture around the idea of how we "ought" to be. (Lennox brought this up saying it seems people move from "is" to "ought".) We "ought" to not need anyone to tell us right from wrong, but we all know the world is not like that. (Lennox's statement that atheism in particular has no argument for the problem of evil was an interesting one.) Simple observation tells us that not all people are rational and not all societies are rational – including some religious ones. So where is this grand objective rationality coming from?
Obviously, given my beliefs, I would agree with Lennox that it comes from something external and bigger than us, built into us as part of our very make-up. That, of course, is God.
Two common answers
There are generally two common answers I find to the question of "If it's not God, what are you basing your rationality on?" The first is, "It doesn't need to be God" and then we need to know what it is. Unfortunately, like last night, I never quite find that people who hold that position really get to what it really is. The second is, "Why does it need to be God?" which doesn't answer the question. That answer is really just being the irritating mountain man seer who only ever answers your questions with a question; or a psychologist who is trained to just ask you questions to help you come to your own conclusions. That doesn't work for philosophy, though.
Lennox could have been stronger last night and could have pushed this question harder, in my opinion. Yes, there are some questions he didn't really answer either, but what I really wanted to hear addressed wasn't – not to a degree that satisfied me, at least!
The point of debate
But don't get me wrong – I learned a lot last night, which is the point of this sort of debate. It's about learning, not about winning. All the smack down comments on Twitter and some of the blogs I'm expecting to see today I think will miss this point. Some people seem to go to these things pre-deciding who will "win". What's the point of that? You're never going to learn anything like that.
There was no clear winner last night (there seldom is) but there was a ton of stuff to think about and consider from both sides, and I thoroughly enjoyed it. It didn't get into ridicule zone (which I was afraid it might) and the crowd was fantastic too. Thanks Eusebius and John for an invigorating, enjoyable evening!
LAST LAUGH: Someone put a Dianetics book from L.Ron Hubbard on McKaiser's seat when he wasn't looking. Chuckled at that!