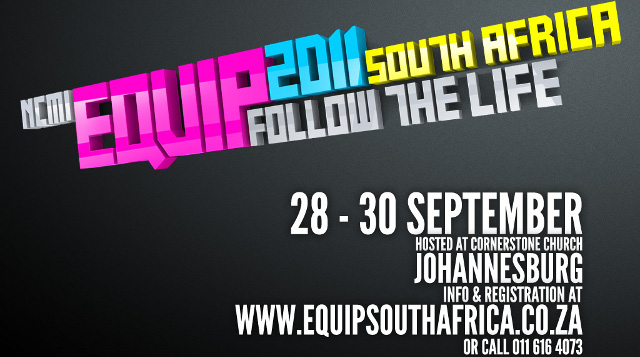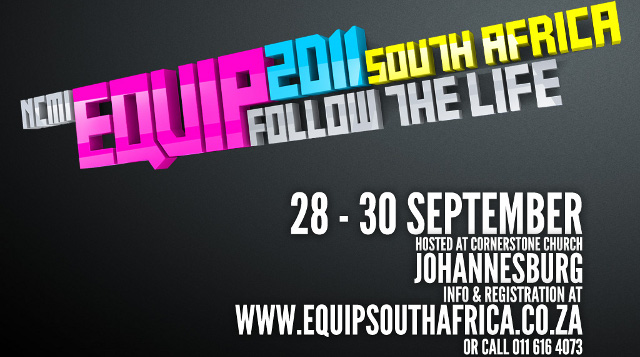 So 28 – 30 September is EQUIP South Africa, a training time for churches across South Africa. I'm quite excited about it. Here's why.
Ephesians 4:11-16 talks about how God has given to the church the apostles, prophets, evangelists, pastors and teachers for the equipping of the saints to do the work of the ministry and for building up the body of Christ.
It goes on to talk about the unity of the faith so that we may all grow up to mature manhood, so that we may no longer be tossed to and fro by every wind of doctrine, that we would grow up every way into Christ. It ends off with how, when each part of the body is working properly, the body grows so that it builds itself up in love.
EQUIP SA is one of those key times in the year when all this takes place. We get to sit under some powerful teaching from guys who I have huge respect for. We get to ask questions. We get to connect with each other and enjoy each other as churches across the country. And, of course, when I say "churches" I don't mean organisations – I mean the people, because we are the church.
All this helps us to grow into unity and mature manhood. It also keeps us from weird and strange teachings, like the many we can find all over the Internet. I think this is done not just by the content of the teaching we receive but the depth of the relationships we have the opportunity to form. When we form better relationships we know each others' hearts better, so there's more trust between us all, and more openness for correction and, of course, encouragement!
It's about being built up together in love. See, verse 15 says that through this equipping we are able to "Speak the truth in love", and so we grow. The end results are that every person in the body is performing their function while at the same time being built up in love towards each other, which brings unity. Friendship within function. It's a marvelous picture and you get to see it happening at EQUIP times such as this.
It's not just about receiving teachings so we can be a sponge but to be equipped to actually DO the work of the ministry. And that work is multi-layered with one purpose: Jesus. To spread the good news of his life, death, resurrection, Kingdom and coming Kingdom. To work in every part of society to be salt of the Earth and let His Kingdom break through into the lives of the many hurting out there, rich or poor. It's broad and yet focused, freeing and yet a challenge. All awesome.
EQUIP is not just for NCMI relating churches
The EQUIP time is run by New Covenant Ministries (NCMI) relating churches and I'm stoked that it's being hosted by my church, Cornerstone Church, this year. But it's not just for NCMI relating churches, it's for everyone. Some people tend to think it's exclusive but it's not. I think it's worth mentioning that.
There is going to be a host of guys from all over the world whom I have the utmost respect for who will be there to exhort, encourage, challenge and teach. On the Thursday and Friday mornings there will be two sessions, effectively. The second session will be a 'break-out' session where we can gather into more intimate sort of 'workshops'.
Mike Hanchett from the USA will host Prophetic break-out sessions while John Bishop (Australia) will host Evangelism sessions and Jon Daniel (Australia) will host Worship sessions. These are more intimate times of teaching where we can ask questions and receive practical training as well and each of these guys are awesome.
It's going to be fantastic and registrations for EQUIP SA 2011 are at www.equipsouthafrica.co.za. R70 a session (five sessions) but as from Monday it will be R85 a session. If you're looking for more info have a poke around that site but you're also welcome to ask me and I'll provide anything you need as best I can.
Also check out the EQUIP SA Facebook page or follow @NCMIEquipSA on Twitter.