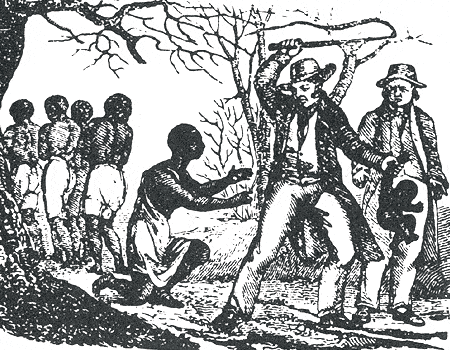 In any heated debate with a skeptic about the Christian faith, someone invariably brings out the slavery thing, usually said in the form of, "But the Bible doesn't condemn slavery (so why do you condemn it?)" or "The Bible supports slavery," or anything along these lines. But these statements are usually the result of a great deal of ignorance on what the Bible ACTUALLY says about slavery, and really show that the skeptic in this case hasn't done much research on the matter or even read the Bible on the subject. Very often they're just repeating something they read in a book or at a website somewhere.
I'm not going to go into too much detail to prove my case, only offer a basic snippet which I think is sufficient to get a skeptic or anyone thinking.
Firstly, the Bible does condemn slavery in the form of slave-trading, which is really the kind of slavery every modern person (skeptic or otherwise) has in mind when they talk of slavery. 1 Tim 1: 10 is where it's at, let me quote from verse 8:
8 We know that the law is good if one uses it properly. 9 We also know that the law is made not for the righteous but for lawbreakers and rebels, the ungodly and sinful, the unholy and irreligious, for those who kill their fathers or mothers, for murderers, 10 for the sexually immoral, for those practicing homosexuality, for slave traders and liars and perjurers—and for whatever else is contrary to the sound doctrine 11 that conforms to the gospel concerning the glory of the blessed God, which he entrusted to me.
The greek word for 'slave traders' above is in some Bibles translated as 'kidnappers'. The word means this: 1) a slave-dealer, kidnapper, man-stealer 1a) of one who unjustly reduces free men to slavery 1b) of one who steals the slaves of others and sells them.
Sometimes the scripture where Paul tells slaves to 'obey their masters' comes up (Col 3:22) but the context of that is completely forgotten. Elsewhere, Paul tells masters not to mistreat their slaves, but in any case his point is that any mistreatment in this life will be made right in the next. Paul's entire attitude is usually that Christians should strive to live at peace with others as much as they can, the Gospel is not meant to be a political message. That does not mean he thinks the status-quo is right, only that there is an attitude that by living at peace with others you might win them over to your faith, which would result in a heart change within them.
Conversely, if the opportunity arises for slave-trading to be outlawed, Christians shouldn't hesitate. Anyway, I'm digressing.
Now, the Old Testament, which does talk of slavery. Here lies a fundamental misunderstanding. The Old Testament does not talk of a kind of slavery akin to slave-trading. It's an entirely different kind of 'slavery' and a better way of thinking of it is in the realm of 'service'.
Basically, in the Old Testament Israel, a person who got themselves into a lot of debt (a poor person) could 'sell' themselves into slavery to get the debt paid off. Their 'master' would provide for them and their family, take care of the debt, and in exchange received services in the realm of butlers, nurses, tea-ladies, etc. Over and above that, every seven years (known as the year of Jubilee) 'slaves' could go free by law, and even receive their family's land back if they had to sell this off to pay debts. However, if the slave wanted to work for their 'master' and his family for the rest of his life, he could do so, and a deal was signed and that was that.
Think about this in our context today when it comes to poor, uneducated people. It's actually quite an ingenious system to help poor people get out of a cycle of debt. Compare this to our modern system where:
1) Uneducated, poor people are paid low salaries
2) Their salaries are taxed by the State
3) They have to work long hours and often in horrible environments (think of miners, for instance). Their health may even be affected.
4) They have to pay their own debts
5) The bank will often not provide them a loan and if it does, that loan comes with interest
6) They have to take care of their own families, after their salary gets eaten up by taxes, debts, the bank with its bank charges, etc.
7) They often cannot get a loan to own their own property, which means they never own their own means of production
And so the cycle of poverty continues, unless the State bails them out, which has other consequences which are too much to go into here.
Is there any system of grace for poor people in this day and age? I put forward that the Old Testament model is strikingly clever. It has nothing to do with slave-trading or how we view slavery today, how slaves were carted from one side of the world to the other and forced to work in sugar cane fields etc. I would encourage anyone who really thinks the Bible is for that kind of slavery or silent on the issue to do some decent study on the matter, the results may surprise you.