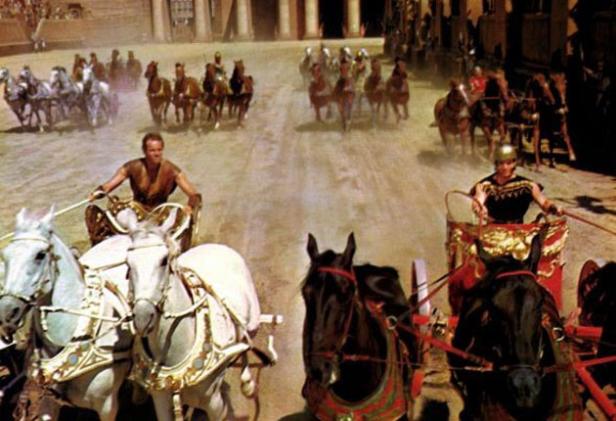 (The infamous chariot race in the 1959 movie adaptation of Ben-Hur, starring Charlton Heston. It won 11 Academy Awards.)
Last night while waiting for the game between South Africa and Uruguay (which we will not talk about 😉 ) I was sitting reading an old 1960 print of Ben-Hur: A Tale of the Christ, by Lew Wallace.
There are reasons why this book's a classic. It's written incredibly well and the dialogue is incredibly interesting — at least until where I read to.
Other than the feeling of serenity I enjoyed while reading an old hardcover book originally written in 1880 while my feet were warming at a gas fire, one quote in particular stuck out to me.
"The world [will learn] a new lesson — that Heaven may be won, not by the sword, not by human wisdom, but by Faith, Love and Good Works."
The scene is a vivid one. Three wise men have travelled from different parts of the world because God has told them that they will meet the Redeemer of mankind. One is an Egyptian, the other is a Greek, and the last is an Indian Hindu (spelled Hindoo in those days). Each of them have rejected the religion, philosophy and gods of their culture and upbringing and have, through much persecution, come to believe that there is one God and creator of all, and that the soul is immortal.
Each has come to this realisation through the testing of their faith, their love, or their good works. Wallace does a brilliant job of resolving their stories in this quote.
God has told them to meet at this place in the desert, even though they have never known each other before, and the Spirit has guided them to meet the Redeemer. They are the Three Wise Men from the Bible who meet Jesus when He is born (Matthew 2).
I find the quote interesting because of the way Wallace has connected these three things — Faith, Love and Good Works, and said that these will win a man Heaven, not human wisdom or the sword.
I would be theologically sound, I think, to mention right off that heaven has already been won through the faith, love and good works of Jesus. That's what I believe and that's what Grace is. Yet heaven is not entered without faith in Jesus, and inheritance not gained without love and good works, and the bridge between faith and good works is surely love.
The Christian life is one of walking in these three things.
As an aside, this quote also perhaps makes something else clear — that faith and good works are not the same thing. The endless Calvinist / Arminian debate (for theologians reading this) centres very much around whether or not faith is a work. But faith is not a work. Faith is faith, and works are works, and love is love. They are connected in a mysterious way but they are not the same thing.
Check out Ben-Hur at Project Gutenberg or read it online here.